Story Progress
Back to home
Asparagus with Sesame and Lemon Recipe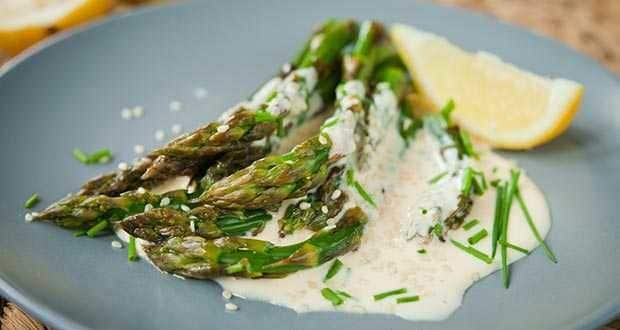 How to make Asparagus with Sesame and Lemon
Crunchy asparagus sauteed with toasted sesame seeds. Tossed in olive oil and drizzled with lemon juice.

Ingredients of Asparagus with Sesame and Lemon
1/2 Kg Fresh green asparagus (ends broken off)
2 tbsp Olive oil
1 tbsp Butter
Salt and fresh pepper
1/2 tsp Lemon juice
1 tbsp Freshly toasted sesame seeds
1 tbsp Garlic, chopped
1.
Heat a pot of water and bring to a boil.
2.
Put in asparagus for 6.5 minutes and wash in chilled water.
3.
Now put 2 tablespoon olive oil in wok and add garlic. saute.
4.
Now add asparagus in stir till warm. Add butter salt and pepper.
5.
Keep stirring and add lemon juice.
6.
Turn gas off serve garnished with toasted sesame seeds.