Story Progress
Back to home
Atta Rann Recipe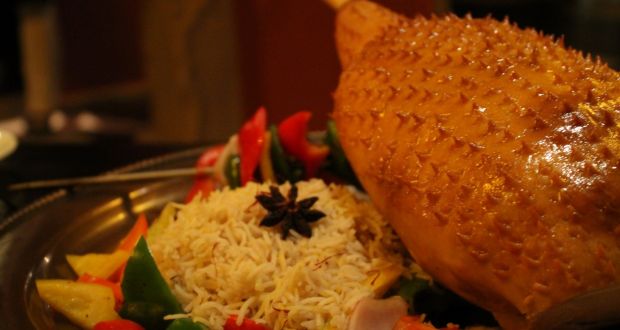 Leg of lamb marinated thrice in deliciously spicy masalas and a freshly made mint sauce, wrapped in banana leaves and roasted till golden.
Total Cook Time

1 hr 15 mins

Ingredients of Atta Rann
1 piece (800 gm) whole leg of baby lamb
Ingredients for 1st Marination:
50 gm ginger garlic paste
Salt to taste
50 gm red chili powder.
20 ml refined oil
Ingredients for 2nd Marination:
5 gm garam masala powder.
5 gm roasted cumin powder.
5 gm kasoori methi powder.
20 ml lemon juice
50 gm ginger and garlic paste.
30 ml mustard oil
200 gm yogurt
100 gm hung curd
30 ml vegetable oil
Ingredients for mint sauce:
100 gm coriander green
10 gm chili green
5 gm mint leaf
10 gm garlic whole
5 gm ginger whole
50 gm butter
Ingredients for crushed Masala:
10 gm coriander seeds
3 gm black pepper whole
2 gm chili flakes
5 gm fennel seeds
1 banana leaf for covering the leg of lamb
For dough:
800 gm refined flour
300 gm water
1st Marination:
1.
Clean the whole lamb leg and put three slits on each side and two slits on the leg parts.
2.
Take all the ingredients of 1st marination and make marination after which apply to the whole leg of lamb and keep aside for 1 hour.
2nd Marination:
1.
Make a marination with ingredients mentioned above in 2nd marination.
2.
Dry roast all the ingredients listed under crushed ingredient and crush them all together and add to marination.
3.
Apply this marination to the lamb leg and keep it aside for 1 hour.
4.
Then cook the lamb leg in tandoor or in oven till it is 60% done.
3rd Marination:
1.
Make the mint sauce and mix it with melted butter.
2.
Apply this marination to cooled lamb leg and wrap the lamb leg with banana leaves.
3.
Make semi hard dough roll in to two sheets and wrap the leg of lamb which is wrapped with banana leaf.
4.
Do the carving on top of the dough if you are placing the lamb leg for display.
5.
Oven roast the wrapped lamb leg for 25 min at 130'c and then for 45 min. at 160'c.
6.
Serve hot with slice onion and lemon wedges.