Story Progress
Back to home
Bagara Baingan Masala Recipe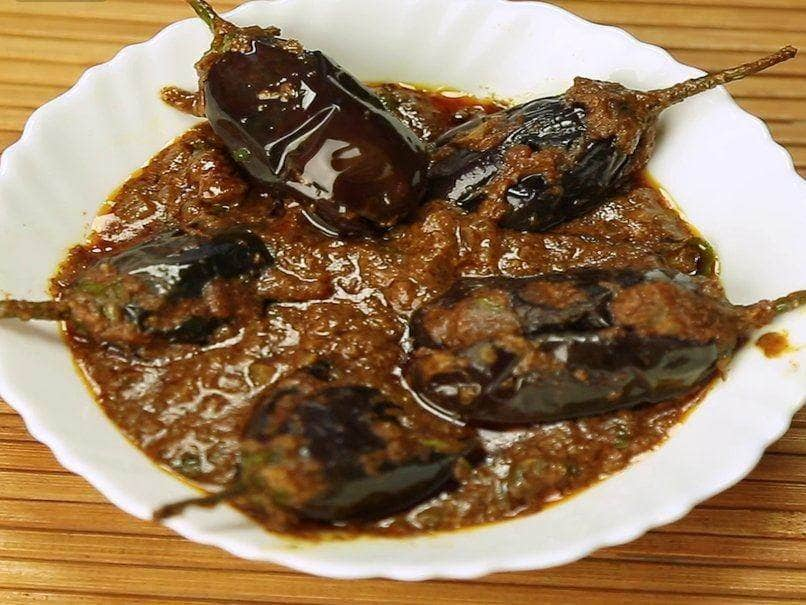 How to make Bagara Baingan Masala
NDTV Food
About Bagara Baingan Masala Recipe: A traditional Hyderabadi dish served with most of biryanis. This is also popularly prepared in the Andhra region and called as Gutti Vankaya kura. A highlight of this dish is the mouth-watering flavour that comes from the blend of tamarind and freshly ground masalas. This is an amazing dish to be on the table of your next meal.

Ingredients of Bagara Baingan Masala
2 tsp cumin seeds
2 tsp coriander seeds
2 tsp sesame seeds
1/4 cup dessicated coconut
4 nos baingan
2 tbsp oil
1 nos onion, chopped
7-8 nos curry leaves
1/2 tsp ginger garlic paste
1/2 tsp salt
1/2 tsp turmeric powder
1/2 tsp red chilli powder
1 tsp tamarind paste
2 tsp coriander leaves
1 cup water
1.
Take Cumin, sesame and coriander seeds. Dry roast them together. 2.
Now take the dry roasted seeds and dessicated coconut in a grinder and grind all the ingredients together. 3.
Deep fry the Baingan thoroughly in a pan. 4.
Take some oil in another pan, add chopped onion. 5.
Saute onion for a while and add curry leaves and ginger garlic paste. 6.
Put salt, turmeric powder and red chilli powder to the pan. 7.
Add ground masala and mix thoroughly to make a blackish-brown paste. 8.
Now add tamarind paste and mix. 9.
Put coriander leaves and water to the mix. 10.
Now add the fried baingan and mix thoroughly. 11.
Serve hot with a light garnishing of dessicated coconut. Watch the step by step recipe of Bagara Baingan Masala here: