Story Progress
Back to home
Baked Eggs Recipe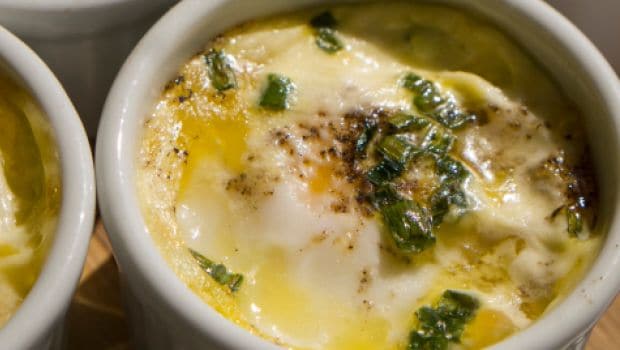 how to make Baked Eggs
Baked Eggs Recipe: A quick and easy brunch dish made with just a handful of ingredients. Onions, cherry tomatoes and spinach topped with whisked eggs and baked perfect. Give this easy egg baked recipe a go!

Ingredients of Baked Eggs
8 Eggs
to taste salt and pepper
1/2 cup cream
1 onion, finely chopped
1 cup cherry tomatoes
1 cup spinach, chopped
for garnishing parsley
for garnishing basil leaves
2 tbsp butter
1.
Crack eggs add salt and pepper to it.
2.
Pour some cream and whisk it well.
3.
In a pan heat butter and add finely chopped onions to it.
4.
Then add spinach, cherry tomato, some basil leaves to it.
5.
Add salt and pepper to taste.
6.
Take a mould and put the vegetable mix in them. Then pour the whisked egg mixture.
7.
Bake them in the oven for 5-6 minutes at 170-180 degrees.
8.
Garnish it well with some parsley and basil leaves and serve hot.