Story Progress
Back to home
Baked Spinach and Corn Recipe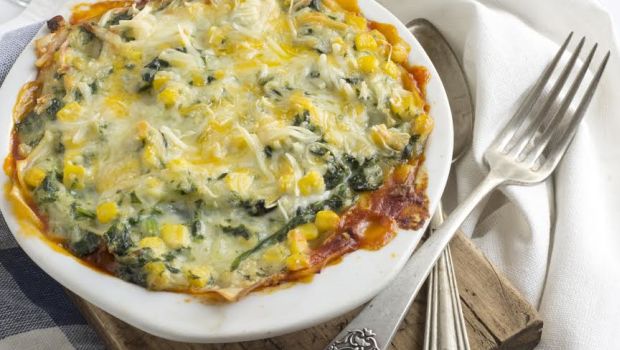 How to make Baked Spinach and Corn
Baked Spinach and Corn: Spinach and corn are cooked with flour, spices and finally baked.

Ingredients of Baked Spinach and Corn
Oven Temp 160 C- 325 F
1 cup Corns, boiled
2 cups Spinach (boiled), chopped
2 tbsp Oil
1 tsp Cumin seeds
1/4 cup Onions, finely chopped
to taste Salt
1/4 tsp Pisi Kali Mirch
3 tbsp Maida
2 cups Milk
1 cup Cheese, grated
1.
Heat oil and add the cumin.
2.
When it splutters, add the onions and stir-fry over high heat, till well covered with oil.
3.
Add the corn and spinach and continue to stir-fry over high heat, to mix well.
4.
Add the maida, stir fry till slightly colored and add the milk, stirring continuously, till well blended.
5.
Add salt and kali mirch and transfer on to an oven-proof serving dish.
6.
Sprinkle the cheese on top. Bake in a pre-heated oven for half an hour and serve hot.