Story Progress
Back to home
Cheesy Spinach Roulade Recipe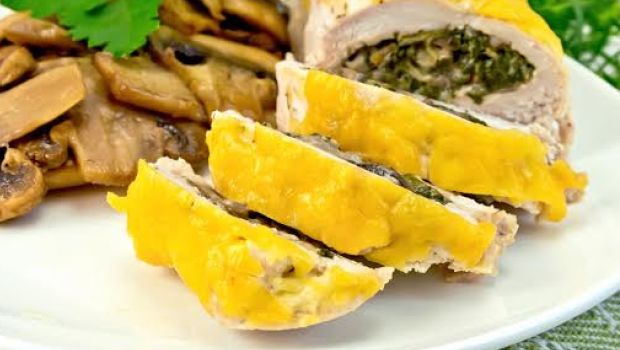 A cottage cheese roll stuffed with spinach. Topped with cheese and tomato puree, this roulade is baked golden and served piping hot with a dash of oregano.

Ingredients of Cheesy Spinach Roulade
Oven temp: 375 F-180 C
200 gm paneer, mashed smooth
2 tsp salt or to taste
1 tsp basil leaves, dried
1/4 tsp powdered black pepper
1 egg, slightly beaten
2 bread slices, soaked in water and squeezed hard
400 gm palak (spinach), boiled and chopped fine
1/2 cup tomato puree
1/4 tsp oregano or ajwain
4 Tbsp cheese, grated
A little flour (maida) for dusting
Chopped greens for garnishing
1.
Mix together the paneer, salt, basil, black pepper, egg and bread and knead the mixture till smooth.
2.
Dust a sheet of plastic or aluminum foil with some flour and pat the paneer mixture over it into a rectangle about 1/4 inch thick.
3.
Squeeze out the spinach and spread it in a layer over the paneer, leaving a slight margin all around. Sprinkle some salt over it.
4.
Roll the two things together like a scroll as firmly as you can, with the support of the foil. Refrigerate for an hour at least.
5.
About 30 minutes before serving unwrap the roll and place it on an oven-proof serving dish. Pour the tomato puree over it.
6.
Sprinkle the cheese and ajwain over and bake in a pre-heated oven for about 1/2 an hour.
7.
Garnish with the greens and serve.