Story Progress
Back to home
Baked Arbi with Feta Cheese Recipe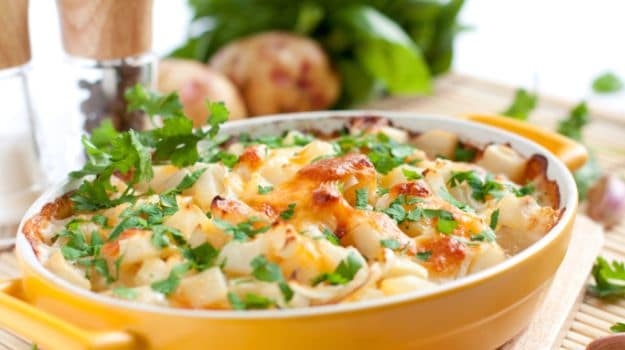 How to make Baked Arbi with Feta Cheese
About Baked Arbi with Feta Cheese Recipe: Here is how to turn this not so loved vegetable, arbi, into a scrumptious dish. Arbi or colocasia baked with herbs, honey and feta cheese.

Ingredients of Baked Arbi with Feta Cheese
100 gms Arbi/colacasia (cooked)
4 wedges small Roasted pumpkin
1 tbsp Olive oil
1 Garlic clove, sliced
1/2 tsp Red chillies flakes
Few rosemary leaves
Few oregano leaves
1/2 Green apple
1/2 Lemon (juiced)
Black pepper (to season)
3-4 pieces Feta cheese
1/2 cup Cheddar cheese
1 tbsp Honey
Prepare the roasted pumpkin:
1.
Slice the pumpkin into big wedges and season with salt, pepper, olive oil and thyme leaves and bake in the oven for 15-20 minutes at 180 C.
2.
Peel the skin of the pumpkin.
Prepare the baked arbi:
1.
Boil the arbi in salted water until just cooked.
2.
Drain, cool, peel and slice the arbi.
3.
Heat 2 tablespoons olive oil in a pan and add chopped garlic and chilli flakes with rosemary and oregano to make the infused oil.
4.
Grate some green apple into thin strips and add some lime juice, pepper, feta cheese, honey and the infused garlic oil.
5.
Line the bottom of a baking dish with a tablespoon of olive oil.
6.
In a baking dish, arrange the arbi, pumpkin and apple alternatively.
7.
Drizzle with another tablespoon of olive oil on top.
8.
Sprinkle some thyme leaves.
9.
Grate the cheddar cheese on top and bake the dish for 20 minutes at 180 C.