Story Progress
Back to home
Banana Chips Recipe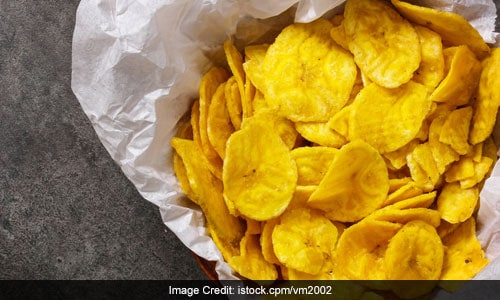 How To Make Banana Chips
About Banana Chips Recipe: These banana chips fried in coconut oil are perfect South Indian snack to eat while enjoying the weather and the rains. They are best stored in an air tight container and can last for days. It is a vegan and gluten free recipe.

Ingredients of Banana Chips
4 green (unripe) plantains (sliced into thin rounds and washed), peeled
2 cups coconut oil
3 cups water
1 tsp turmeric
1 tbsp chili powder
to taste salt
1.
Put the slices of banana into a solution of water, salt and turmeric and let sit for 5 minutes.
2.
Give it a good mix and transfer to a colander to drain completely.
3.
In a medium sized kadai on high heat, heat the oil.
4.
When it starts smoking, add the slices in small batches.
5.
Fry until golden and transfer onto a paper napkin.
6.
Repeat with the rest of the slices.
7.
Sprinkle with salt and chilli powder and let it cool.
8.
Store in an air-tight container for up to a week.