Story Progress
Back to home
Barley Risotto Recipe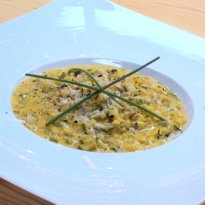 How To Make Barley Risotto
Barley takes the place of rice in this risotto made using yellow squash, bitter gourd, zucchini and some distinct herbs.

Ingredients of Barley Risotto
100 gms diced bottle gourd/dudhi
50-60 gms diced zucchini
50-60 gms diced yellow squash
One and a half tsp olive oil
1/2 onion
1 big Tbsp chopped leeks
One and a half celery
1 clove chopped garlic
Few sprigs rosemary
Few sprigs thyme
Few basil leaves
One and a half tsp curry powder
Few streaks of saffron
2 Tbsp vegetable stock
1-2 cups cooked barley
One and a half tbsp cream
One and a half tbsp parmesan cheese
Juice of 1/2 a lemon
1 bunch chopped coriander
Salt and pepper to taste
1.
Remove the insides of the bottle gourd and cut into dices.
2.
Dice the zucchini and yellow squash.
For the Barley Risotto:
1.
Heat olive oil, onions, celery and leeks in a sauce pan with some garlic and saute nicely.
2.
Then add the yellow squash, bitter gourd, zucchini, thyme, rosemary and basil.
3.
Add the curry powder and saffron to the vegetables.
4.
Now add the barley and keep adding the stock a little at a time to bring it all together.
5.
Put in the cream and add the grated cheese.
6.
Season to taste with salt and pepper.
7.
Serve in a bowl and garnish with chives.