Story Progress
Back to home
Basil Tomato Soup Recipe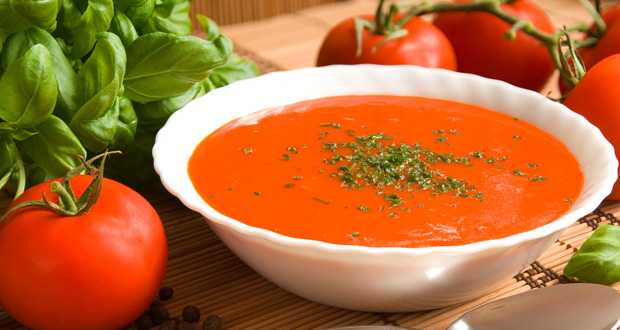 How to make Basil Tomato Soup
Tomatoes and carrots blended together in this soup, garnished with basil leaves, olive oil and zesty lemon.

Ingredients of Basil Tomato Soup
Celery
3 tbsp Olive oil
2 cloves Garlic, chopped
2 Onions, chopped
2 Carrots , chopped
1 can Tinned tomatoes
2 Tomatoes, chopped
1 1/2 litre Vegetable stock
Salt and pepper
For masala:
2 sprigs Basil
Extra virgin olive oil
Lemon zest
1.
Heat a deep bottomed pan and add olive oil, garlic, onions, carrots, and chopped celery.
2.
Cook for 10 minutes on a slow flame.
3.
Add tinned tomatoes, chopped tomatoes, vegetable stock, rock salt and pepper to the vegetables.
4.
Let the vegetables simmer for 10-15 minutes.
6.
Blend the vegetables into a thick soup.
Prepare Masala:
1.
In a pestle, add basil leaves, extra virgin olive oil, salt, pepper and lemon zest.
2.
Pound the mixture using mortar
3.
Garnish the soup with the masala and serve hot.