Story Progress
Back to home
Tomato and Roti Soup Recipe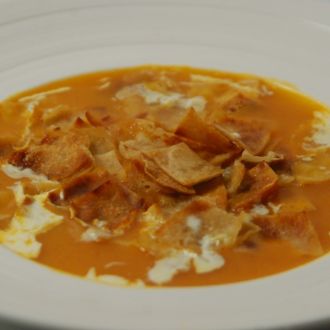 How To Make Tomato and Roti Soup
We always end up confused when it comes to left over meals. This recipe gives a boring bowl of dal a healthy and fun twist. Roti like you have never had before.

Ingredients of Tomato and Roti Soup
2 Medium tomatoes,, finely chopped
3 Leftover rotis
1 tbsp oil
2 tsp garlic, finely chopped
to taste salt
to taste black pepper corns (crushed)
2 tbsp olive oil
1 cup leftover dal
Fresh cream (for drizzling)
1.
Cut leftover rotis into small pieces.
2.
Heat 2 tbsps olive oil in another non-stick pan, add roti pieces and sauté on low heat till golden and crisp.
3.
Add 2 cups water to the tomatoes and mix.
4.
Add leftover dal to the tomato mixture and mix well. Cover and cook for 5-7 minutes.
5.
Strain the tomato-dal mixture into a bowl, place the pan back on heat and pour the strained liquid into it. Grind the tomato-dal residue into smooth puree with ½ cup water.
6.
Strain the ground mixture into the pan. Remove the froth and discard.
7.
Transfer the soup into a soup plate, top with fried roti pieces, drizzle fresh cream and serve piping hot.