Story Progress
Back to home
Bhatti da Murga Pindiwala Recipe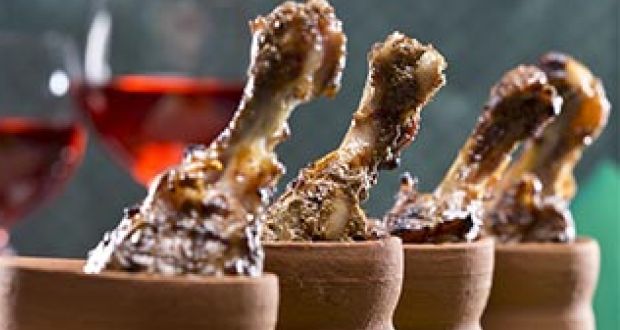 How to make Bhatti da Murga Pindiwala
Bhatti da Murg is a gem from the streets of Punjab where the chicken is cooked on a charcoal grill. These chicken legs marinated overnight in fine spices will just melt in your mouth! It is a kind of tandoori version of chicken recipe.

Ingredients of Bhatti da Murga Pindiwala
8 chicken legs (with bone)
Desi ghee/clarified butter for basting
The Marination:
3 Tbsp cooking oil
5 tsp garlic paste (strained)
3 1/2 tsp ginger paste (strained)
3 Tbsp yogurt (whisked)
4 Tbsp malt vinegar
2 tsp black pepper (freshly roasted & coarsely ground)
2 tsp pomegranate powder
1 1/2 tsp black cardamom powder
1 1/2 tsp cinnamon powder
1 1/2 tsp cumin powder
1 1/2 tsp coriander powder
1 tsp nutmeg powder
1 tsp green cardamom powder
1 tsp clove powder
1 tsp all spice powder
1/2 tsp mace powder
1/4 tsp nutmeg powder
A pinch of dried fenugreek leaf powder
A pinch of salt
The Chicken:
1.
Clean and make angular and deep incisions, 3 on each thigh and 2 on each drumstick.
3.
Heat oil in a wok, add garlic and ginger and stir-fry over medium heat until the moisture evaporates.
4.
Remove wok from heat, stir-in yogurt, mix well, and transfer it to a large bowl and let it cool.
5.
When cool, mix the remaining ingredients to prepare the marinade.
6.
Vigorously rub the chicken legs with this marinade and reserve in a bowl for 6 hours.
8.
Place the marinated chicken in convenient batches on a charcoal grill and roast over medium heat for 5-6 minutes, turning once, and basting with ghee at regular intervals.
9.
Remove, and separate the drumstick bone from thigh bone, without separating the meat.
10.
Return chicken to grill and roast for a further 2-3 minutes, turning and basting once.