Story Progress
Back to home
Bheja Masala Dry Recipe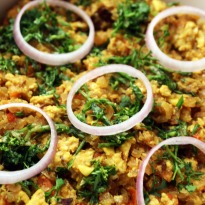 How to make Bheja Masala Dry
Goats brain cooked in masalas - pahadi style.

Ingredients of Bheja Masala Dry
3 Goat Brain
1 1/2 tsp Chili powder
Salt to taste
1 1/2 tsp Turmeric powder
1/2 liter Water
1 tsp Cumin seeds
1 tsp Cumin powder
2 small Cinnamon sticks
1 Tbsp Oil
1/2 cup Chopped onions
1 tsp Ginger
1 tsp Garlic
2 Green chilies
1 cup Tomatoes (chopped)
1 tsp Coriander powder
Fresh coriander
1 Tbsp Lime juice
1 Tbsp Ghee
1.
First boil the brain in water.
2.
Once it comes up to boiling turn off the flame and leave it for gentle rolling boil.
3.
After taking out the brain add chili powder, salt and turmeric to it.
5.
In a pan add oil, cumin seeds and cinnamon.
6.
Now add chopped onion, ginger, garlic and 2 green chillies.
7.
Saute it and then add tomatoes.
8.
Now add some salt, turmeric, coriander powder, cumin powder.
9.
After stirring it well add little water to bring all the spices together .
10.
Now add the brain and a dollop of ghee.
11.
Garnish it with fresh coriander and lime juice.