Story Progress
Back to home
Magaz Masala Recipe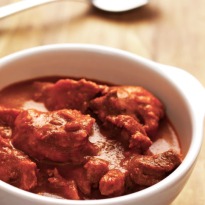 Stir fried lamb brain combined with a heartwarming gravy. High on spices, this classic hit will win your heart with its spellbinding aroma and creamy texture.

Ingredients of Magaz Masala
225 gm lamb brain
2 Tbsp ghee
2 tomatoes- grated
2 Tbsp coriander powder
1/2 Tbsp turmeric
Salt to taste
1 Tbsp chilli powder
2 Tbsp strained yoghurt
2 green chillies- chopped coarsely
1/4 cup chopped coriander leaves
4 cloves
4 peppercorns
1/2 Tbsp pieces of cinnamon
1 Tbsp cumin seeds
1 Tbsp fenugreek seeds
Grind together:
2 Tbsp medium-sized onion
2 Tbsp chopped ginger
2 Tbsp chopped garlic
For the marinade:
1/2 Tbsp turmeric
2 Tbsp salt
1.
Marinate lam brain in turmeric and salt.
2.
Keep for about 15 minutes.
3.
Wash well and chop into cubes.
4.
Heat ghee and add roasted, coarsely pounded spices to it.
6.
Stir-fry till fat separates and the mixture turns brown.
7.
Add tomatoes and fry till the fat separates again.
8.
Add coriander powder, turmeric, salt and chilli powder.
9.
Mix well and add yoghurt, keep stirring to dissolve any lumps.
10.
Add green chillies and chopped lamb brain.
11.
Stir-fry till mixed well.
12.
Add about half a cup of water and bring to a boil.
13.
Put in coriander leaves and simmer for about 5 minutes or till the water dries.
14.
Garnish with coriander and serve hot.