Story Progress
Back to home
Bhuni hui Kamal Kakri Recipe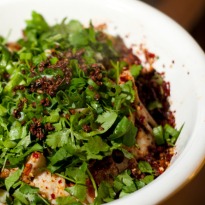 How to make Bhuni hui Kamal Kakri
Lotus stem recipe with the ideal balance of masalas and yogurt.

Ingredients of Bhuni hui Kamal Kakri
250 gms lotus stems
to taste Salt
1/2 tsp chilli powder
1/2 tsp garam masala
2 tbsp oil
1 tsp cumin seeds
1/4 asafoetida
1/2 cup yoghurt
1 tbsp coriander leaves to garnish, chopped
Grind together :
1 tbsp ginger, chopped
1 tsp cumin seeds
2 tsp coriander seeds
1.
Peel the outer layer of the lotus stems and wash well. Wash carefully as they are often caked with dry mud.
2.
Slice the stems into 1/4 cm thick pieces.
3.
Boil 4 cups of water and add the sliced lotus stems.
4.
Simmer till tender. Takes about 30-45 minutes. Should press with a slight pressure. Drain and cool.
5.
Add the ground ingredients, and mix well. In a heavy-based pan, heat the oil.
6.
Add the cumin seeds and asafoetida.
7.
When the seeds splutter, add the vegetable mixture and stir well.
8.
Add the yoghurt and cook over high heat till the liquid evaporates.
9.
Serve hot, garnished with chopped coriander leaves.