Story Progress
Back to home
Haak and Nadur (Lotus Stem With Greens) Recipe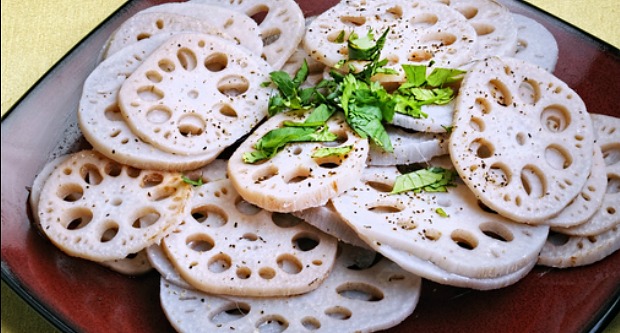 Haak and Nadur, also known as lotus stem with greens is a Kashmiri specialty that needs only a handful of simple ingredients and 25 minutes of your time.

Ingredients of Haak and Nadur (Lotus Stem With Greens)
1 kg haak
250 gm lotus stems
Whole red chili
1 cup mustard oil
1 tsp asafoetida liquid
3 cups of water
Salt to taste
1.
Clean haak and wash well under running water tap. Scrape lotus stems and cut it diagonally.
2.
Wash the lotus stems well under running water tap till all the mud is washed away.
3.
Heat oil in a pressure cooker add salt, asafoetida liquid and lotus stems and fry for 1 minute. Pour water and bring to boil. Add haak and pressure cook it for 10 minutes.
4.
Remove the lid and run it under cold water.
5.
Add whole red chillis into the thin gravy and boil for 2 minutes. Serve with boiled rice.
6.
Note: This vegetarian dish is best in combination with non-vegetarian dish of Roganjosh or vegetarian dish of Dum aloo.