Story Progress
Back to home
Borek Recipe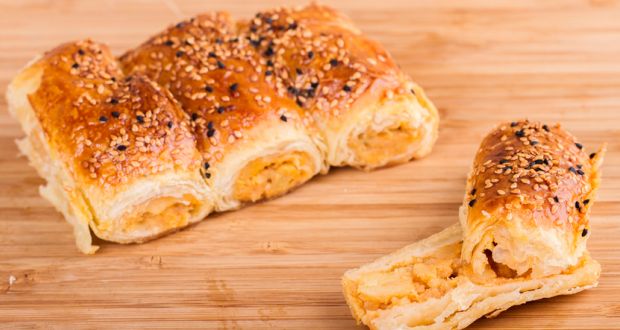 An Israeli puff pastry stuffed with spring onions, spinach and mushrooms. A lovely snack that can be relished with a thick tomato sauce.

Ingredients of Borek
200 gm of dough made from flour, egg, oil, margarine and salt to taste
1 cup blanched spinach
1 cup chopped eggplant
1/2 cup mushroom boiled with lemon
1 Tbsp red bell pepper
1 Tbsp chopped spring onion
2 eggs-whipped with a pinch of white pepper and salt.
Use Olive oil to shallow fry
1.
1. Roll out the dough with a rollpin.
2.
2. Then with a knife cut it into a square and keep it aside. For spinach borek, heat oil in a pan.
3.
3. Add spring onion, spinach, mushrooms, salt and white pepper. Saute lightly.
4.
4. For eggplant borek, in a pan saute eggplant, salt and red bellpepper.
5.
5. Take the dough, put spinach filling on top of it and fold the corners, while brushing with whipped egg.
6.
6. Repeat the procedure with the eggplant filling.
7.
7. Bake in an oven for about 20 minutes or till it turns brown.
8.
8. Serve with tomato sauce.