Story Progress
Back to home
Broccoli and Cheddar Soup Recipe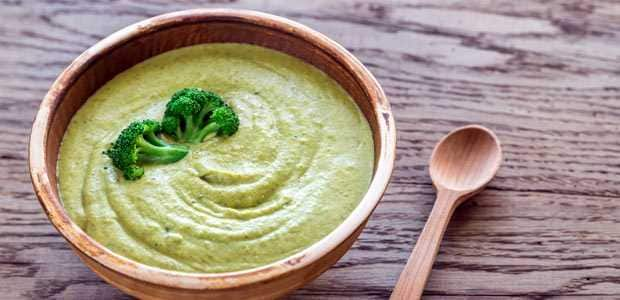 How to make Broccoli and Cheddar Soup
Arjun Gupta of The Piano Man, New Delhi cooks up a healthy, wholesome and filling broccoli soup with cheddar cheese. This recipe is a meal in itself!

Ingredients of Broccoli and Cheddar Soup
200 Gram Fresh broccoli, chopped
150 ml Vegetable stock
30 gram Roux
1/2 Onion, finely chopped
3 cloves Garlic, finely chopped
20 gram Butter
A pinch of Nutmeg
A pinch of White pepper powder
A pinch of Salt
A pinch of Black pepper
2 tbsp Cream
50 gram Cheddar cheese, shredded
1.
Cut some broccoli florets and blanch them. Be very carefully as they cook very quickly. Once done chop them up nice and fine.
2.
Roux can be made by mixing 1/2 butter and 1/2 maida. Mix it over low heat, let it cook for a while and when it turns golden it's done.
3.
Heat butter in a pan, sweat garlic & onion, and add chopped broccoli and saute.
4.
Season with salt, pepper & nutmeg powder. Saute and them take this mix out in a bowl.
5.
Chill in the refrigerator for a couple of minutes.
6.
In the meanwhile prepare the base.
7.
The rule with stock and roux is that you mix them when either they are both cold or hot.
8.
So we mix the roux and some of the stock both at room temperature into a paste.
9.
Add the remaining stock to a pan. Bring it to a boil and them lower the heat and let it simmer.
10.
Add the roux mix to it. Now while it simmers puree half of the broccoli mix and mix with the other half.
11.
Add cheddar cheese and simmer.
12.
Add the puree and fine broccoli mix.
13.
Now add the cream. Mix well and remove from heat immediately.
14.
Garnish with some cheese.