Broccoli Stew Recipe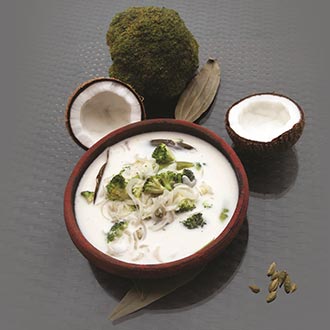 This recipe offers the goodness of broccoli simmered in silky coconut milk. Perfect for cold evenings, make this healthy and fuss-free broccoli stew for dinner!
Ingredients of Broccoli Stew
600 gm broccoli
15 ml oil
100 gm onion sliced
2 green chillies (slit)
1 sprig of curry leaves
2 bay leaves
5 gm cardamom
400 ml coconut milk
Salt to taste
How to Make Broccoli Stew
1.
Clean and cut the broccoli into small pieces.

S
2.
Put oil in a pan and add sliced onion, slit green chilly, curry leaves, cinnamon stick and cardamom.

S
3.
Saute till the onion gets translucent.

S
4.
Add little water and coconut milk and stir in the broccoli.

S
5.
When the broccoli is almost done, add rest of the coconut milk turn off heat after a nice stir.

S
6.
Garnish with curry leaves and serve hot

S
Key Ingredients: