Story Progress
Back to home
Kidney Beans and Pasta Soup Recipe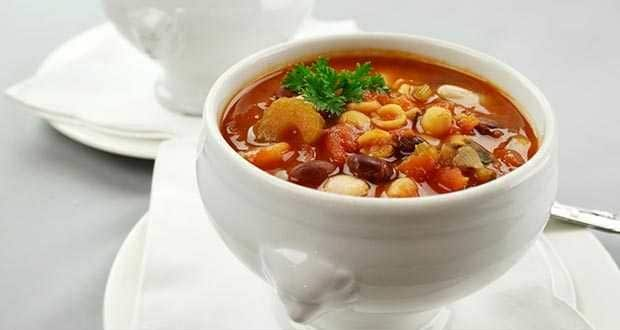 How to make Kidney Beans and Pasta Soup
Did you know that kidney beans are almost fat free and are loaded with quality protien? A wholesome soup with kidney beans, veggies and pasta infused with a tomato-tamarind sauce giving it a traditional touch.

Ingredients of Kidney Beans and Pasta Soup
1 Tbsp Olive oil
1/4 tbsp Asafoetida (heeng)
1 tsp Fennel powder
1 cup Green/yellow/red peppers
1 Potato (parboiled and cut in cubes)
1 Carrot (pre boiled and cut into small cubes)
1/2 cup Beans, blanched
1/2 cup Kidney beans (pre-boiled)
1 cup Wholewheat pasta, boiled
1 cup Tomato-tamarind sauce
Salt and pepper
2 tsp Pudina leaves (mint)
To garnish Cheese
2.
Add the heeng and fennel powder.
3.
Stir it for a few seconds and then add the vegetables.
4.
First add the peppers. Saute.
5.
Now add the potato, carrot and blanched beans. Saute.
6.
Now add the kidney beans and mix well.
8.
Add the tomato-tamarind sauce. (For the sauce just puree 1-2 tomatoes with some tamarind)
9.
Add some water to adjust the consistency of the soup.
10.
Season with some salt and pepper.
11.
Sprinkle some mint leaves.
12.
Now cover it and let it boil for 5 minutes.
13.
Let it simmer for a while till it thickens.
14.
Once it reaches the desired consistency take it off the heat.
15.
Garnish with some grated mint and cheese.