Story Progress
Back to home
Brown Basmati Rice Pilaf Recipe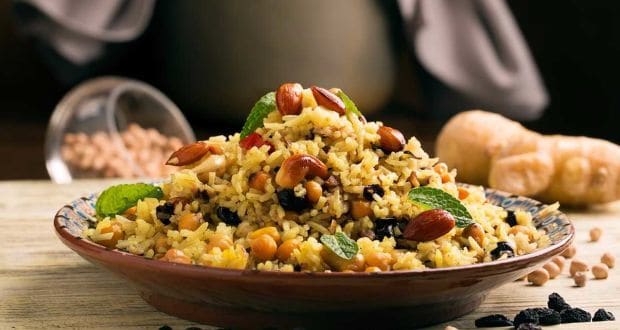 How to make Brown Basmati Rice Pilaf
About Brown Basmati Rice Pilaf Recipe: An instant and easy rice dish that will leave you wanting for more. Brown basmati rice mingled with tomatoes, kala chana, plums and spring onions.

Ingredients of Brown Basmati Rice Pilaf
1 Medium Onion
1 medium Carrot
1 tbsp Celery, chopped
50-60 gram Black chana (cooked)
1 tbsp Butter
1 tsp Olive oil
1 Cinnamon stick
6-7 Black pepper corns
1 Green chilli
1/2 tsp Red chilli powder
1/2 tsp Garam masala
150 gram Washed brown basmati rice, soaked
6-8 Broccoli florets
1 medium Tomato (cut into chunks)
600 ml Stock
2 Plums, chopped
450 ml Water
1.
In a heavy bottomed pan, heat butter and olive oil.
2.
Throw in the cinnamon, black peppercorns and cumin seeds.
3.
Add the onion, celery, carrots and garlic.
4.
Saute well for 5 minutes.
5.
Add the kala chana to the cooking veggies.
6.
Now add the brown rice. Add tomatoes and season with salt and pepper.
7.
Cook the rice by filling it a little more than its amount with water until all the water is absorbed.
8.
Add the broccoli and let it steam with the rice.
9.
Garnish with chopped plums and spring onions.
Recipe Notes
You can add more vegetables of your choice.