Story Progress
Back to home
Cauliflower and Chicken Biryani Recipe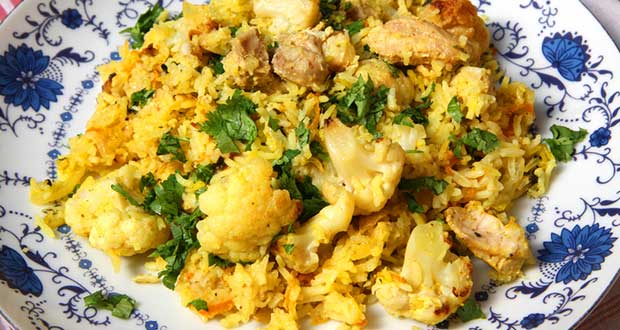 How to make Cauliflower and Chicken Biryani
NDTV Food
This recipe gives the impression of a high-carb meal when in fact the rice has been substituted with cauliflower. This cauliflower biryani is cooked in coconut oil giving it a healthy twist.
Total Cook Time

1 hr 50 mins

Ingredients of Cauliflower and Chicken Biryani
For the marination:
200 gram Boneless Chicken
2 tbsp Biryani Masala
1/2 cup Yogurt
For the onions:
3 Onions, chopped
50 gram Coconut Oil
For the cauliflower rice:
1 Cauliflower
50 gram Coconut (diced)
1 medium Onion (diced)
6 Peppercorns
3 Cardamoms
1 tsp Cumin seeds
2 Bay leaves
1/2 tsp Cinnamon
3 Cloves
For the curry:
50 gram Coconut oil
2 tbsp Garam masala
1 tsp Dry chilli flakes
1/2 tsp Turmeric powder
8 Black peppercorns
5 Cardamom
1/2 tsp Cinnamon
6 pieces Garlic (crushed)
3/4 cup Tomato puree
3 Green chillies, finely chopped
1/2 tsp Fresh ginger (peeled), chopped
1 Dry red chilli
to taste Salt
1.
Add the finely chopped onions to the oil over a low to medium heat and cook until dark brown. Set aside.
2.
Wash and dry the cauliflower florets and then either grate or preferably pop them in the food processor and pulse until 'rice' sized pieces are acquired. Don't overdo this as you don't want it to go all mushy.Set aside.
3.
Now heat the oil in a large pan to a medium heat and add the chopped onion. Add the garlic, bay leaves , peppercorns, cardamom, cloves, cinnamon and stir over the heat for 1 minute until fragrant.
4.
Turn the heat up and add your pulsed cauliflower, stir over the high heat for about 3-4 minutes until cauliflower is cooked and crisp on the outside and al dente in the middle (much like rice). Add salt to taste and set to one side.
5.
In a large saucepan,heat the coconut oil for the curry over a medium heat and add the garam masala,dried chilli, turmeric, peppercorns and cinnamon.
6.
Fry until fragrant (only about a minute).
7.
Now add garlic and tomatoes, fresh chillies and ginger and stir for about 3 minutes, cover and cook for 10 minutes.
8.
Add meat and a pinch of salt and stir briefly before covering again for another 10 minutes. Add in the coriander and turn the heat down to low and put the lid on for another 15 minutes.
9.
Turn off the heat and Scoop out half of the curry and set to one side, spoon in half of the cauliflower rice and level, sprinkle on half of the brown onions that you cooked at the beginning.
10.
Add the remaining curry and cover again with the rice and then again the onions.
11.
Place it over low heat and steam with lid on for 5 -10 minutes, do not stir and toss well .
12.
Remove from heat, sprinkle chopped coriander leaves, garnish with dry red chilli.
13.
Serve with raita and enjoy.
Recipe Notes
This recipe of cauliflower and chicken biryani can also be made with Chicken with bones, though it will take more time.
You can add green peas to the biryani as well.