Story Progress
Back to home
Chef's Lobster Recipe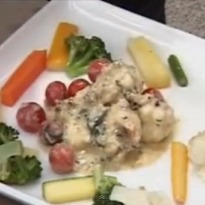 How to make Chef's Lobster
Owner of Olive Bar and Kitchen, AD Singh, Aditya Bal and the chef rustle up a special lobster dish in a white wine and cream gravy.
Total Cook Time

1 hr 30 mins

Ingredients of Chef's Lobster
2 Baby lobsters
1 tsp Olive oil
1/2 tsp Garlic, chopped fine
Parsley (as required)
3-4 Basil leaves
to taste Salt and pepper to taste
1/4 cup White wine
1/2 cup Cream
6-7 Cherry tomatoes
1.
Remove the tail of the lobster, but bending it up and backwards.
2.
Cut the shell and scoop out the meat.
3.
When the lobsters are fresh the vein comes out automatically.
4.
In a pan heat some olive oil.
5.
Add to that garlic and herbs. Saute.
6.
Add the lobster meat. Season with salt and pepper. Saute.
7.
Add the white wine now and mix well. De-glaze with the white wine and let all the flavor come up.
8.
Now add the cream accordingly. Let it simmer for a couple of minutes.
9.
Adjust the salt. Add some cherry tomatoes to give some colour. Add some cherry tomatoes to give some colour.
10.
Serve with some boiled veggies.