Story Progress
Back to home
Chicken Chopsuey Recipe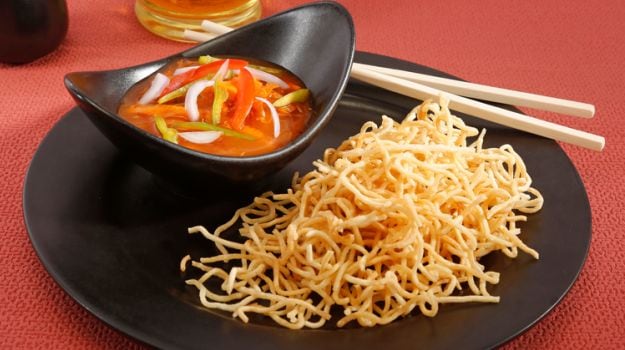 How to make Chicken Chopsuey
About Chicken Chopsuey Recipe: An all time favorite Chinese side dish, here's the recipe of the sweet and tangy chopsuey with chicken and crunchy fried noodles.

Ingredients of Chicken Chopsuey
1 1/2 Cups chicken (cooked and shredded thinly)
1/2 cup capsicums, shredded
1/2 cup onions, sliced
2 tsp garlic, finely chopped
2 tbsp oil
200 gms noodles (drained well), boiled
2 tbsp vinegar
1/2 tsp soya sauce
1 tsp sugar
to taste salt
2 tbsp corn flour
Oil (to deep-fry)
1.
Mix together the vinegar, soya sauce, sugar, salt and corn flour and add enough water to make up to a cup.
3.
Heat the 2 tbsp oil and add the onions and garlic.
4.
Saute till a little soft.
5.
Add chicken and capsicum and stir-fry over high heat for a minute.
6.
Add the sauce ingredients and bring to a boil again.
7.
Deep fry the noodles over high heat till brown.
9.
Transfer noodles to a serving dish, pour the chicken mixture over and serve.