Story Progress
Back to home
Chicken Shashlik Sizzler Recipe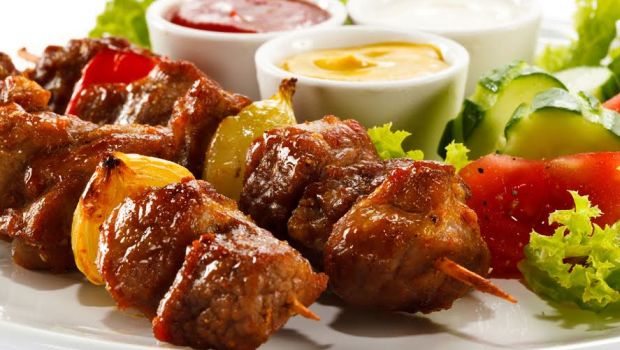 How to make Chicken Shashlik Sizzler
Marinated chicken chunks pierced along with capsicum, onion and tomato in a skewer, grilled crisp.

Ingredients of Chicken Shashlik Sizzler
Oven Temp: 450 F- 220 C
500 Gram Boneless Chicken, shredded
1 Tbsp Garlic Paste
1 Tbsp Ginger Paste
1/4 Cup Vinegar
To taste Chilli Powder
1 tsp Garam Masala
1 Tbsp Coriander Seeds
To taste Salt
2-3 Capsicums
2 Onions
3-4 Tomatoes
Skewers
To brush Oil
To garnish Chaat Masala
1.
Prick chicken cubes and marinate in the garlic, ginger, vinegar, chilli powder, black pepper, powdered ingredients and salt. Leave thus 7 hours or overnight.
2.
Cut the capsicums, onions and tomatoes to match the chicken cubes.
3.
Thread a piece of tomato, onion and capsicum into the skewer and follow with a piece of chicken. Repeat thus till all the pieces are taken care of.
4.
Pour whatever juices there may be over the prepared shashlik and place over a drip tray.
5.
Brush with oil. Bake in a preheated oven 20-25 minutes, till cooked through and browned at the edges, or over a barbecue pit, or a grill.
6.
Brush again with a little oil when almost done.
7.
Serve hot over a bed of boiled rice.
Recipe Notes
Before placing the chicken on the sizzler plate, heat the iron plate very hot. Place whatever accompaniments you are serving with it and immediately before serving on the table, splash some water and oil on it, and you will get the sizzling and fumes.