Story Progress
Back to home
Chicken Stock Recipe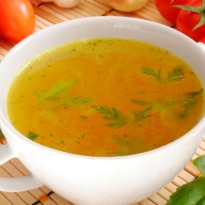 An easy recipe to make chicken stock at home.

Ingredients of Chicken Stock
250 gm bones of chicken (can be combination of bones and left-over chicken)
6 cups water
1 cup onion-coarsely chopped
4 Tbsp celery-chopped
1 bay leaf
2 cloves
2 peppercorns
Salt
1.
Place all the ingredients in a pressure cooker and cook for about 15 minutes.
2.
Strain the soup and season according to taste, and use any flesh that is there for sandwiches or salads.