Story Progress
Back to home
Chilli Paneer Recipe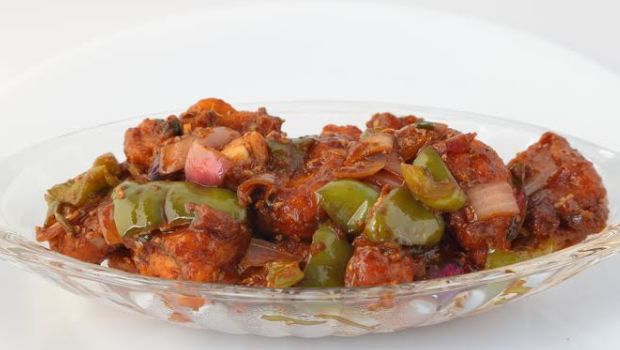 How to make Chilly Paneer
Paneer cubes rolled in a tangy mixture, fried and served on a bed of onions and greens.

Ingredients of Chilli Paneer
350 Gram Paneer (cubed)
2 tsp Salt
1 Egg
1/2 Cup Cornflour
1 tsp Ginger- Garlic Paste
To mix the batter Water
For deep frying Oil
2 Cups Onions, chopped
2 Tbsp Green Chillies, sliced
1 Tbsp Soya Sauce (adjust according to strength)
2 Tbsp Vinegar
1/4 tsp Ajinomoto
Some greens for garnish
1.
Mix together the paneer, 1 tsp salt, egg, cornflour, garlic, ginger and enough water to have the pieces 'coated' with the mixture.
2.
Heat the oil, and fry paneer pieces over high heat to a golden color.
3.
Heat 2 tbsp of the oil in a wok, and stir fry the coarsely chopped onions in it over high heat till they look 'wet'.
4.
Add the green chillies and stir a few times, add the remaining salt, soya sauce, vinegar, MSG and the paneer.
5.
Mix well, and serve garnished with some greens.