Story Progress
Back to home
Chocolate Cheesecake Recipe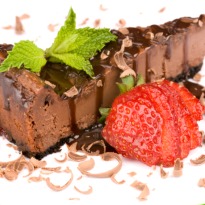 For all the chocolate lovers, here's the recipe for a decadent choclatey cheesecake.

Ingredients of Chocolate Cheesecake
100 gms dark chocolate
100 gms milk chocolate
300 gms cream cheese - 300 gms
1 Tbsp sour cream
100 gms biscuits (plain or sweet)
75 gms softened butter
Cocoa powder to dust
1.
Crush the biscuits in a food processor or by hand with a rolling pin. Combine till dough-like with the butter. Oil or butter a cake tin and spread the biscuit mix over the base. Freeze for 10 mins.
2.
Melt the chocolate over simmering water and set aside to cool.
3.
Beat the cream cheese with an electric mixer or hand blender. Add the melted chocolate and sour cream and beat well till combined.
4.
Spread the chocolate-cheese mixture over the biscuit base and refrigerate for 3 hours or until set.
5.
Dust with cocoa powder and serve. You can also serve the Chocolate Cheesecake with a whipped cream topping