Story Progress
Back to home
Chocolate Tarts Recipe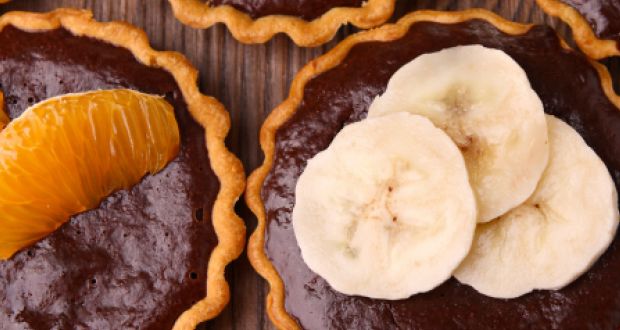 Homemade pastry dough filled in with glossy chocolate mixture, baked good.
Total Cook Time

1 hr 15 mins

Ingredients of Chocolate Tarts
2 cups flour (maida)
1 tsp salt
1 tsp sugar-powdered
1 tsp baking powder
3/4 cup butter or ghee
1 tsp vinegar
1 egg-slightly beaten
1/4 cup milk
Cold water-as required
For the filling:
240 gm cooking chocolate (or semi sweet chocolate)-chopped fine
60 gm butter
4 eggs-separated
3 cups sugar
1.
Sieve the flour and mix in the salt, sugar and baking powder.
2.
Cut the butter into it till and mix to a crumbly mixture.
3.
Add vinegar and egg or cold milk and mix into a stiff dough. Use cold water only if required.
4.
Wrap in cling foil or cover and keep in a cool place to rest about 15 minutes.
5.
Line tart mould with the pastry dough, prick with a fork and bake in a 375F-180C oven till a light brown (about 15 minutes).
6.
Remove from oven and cool.
For the filling:
1.
In double boiler melt chocolate and butter until smooth then let cool slightly.
2.
In separate bowl lightly beat egg yolks. Using a spatula fold in to chocolate mixture.
3.
In large bowl beat the egg white till they form peaks.
4.
Gradually add all the sugar until the whites turn glossy. Fold the chocolate mixture into the whites just until no white streaks remain.
5.
Preheat oven to 375 F-180 C. Fill the tart shells with the chocolate mixture and bake for 18 minutes until the tops are firm and a knife inserted comes out clean.