Story Progress
Back to home
Chopped Witch Fingers Recipe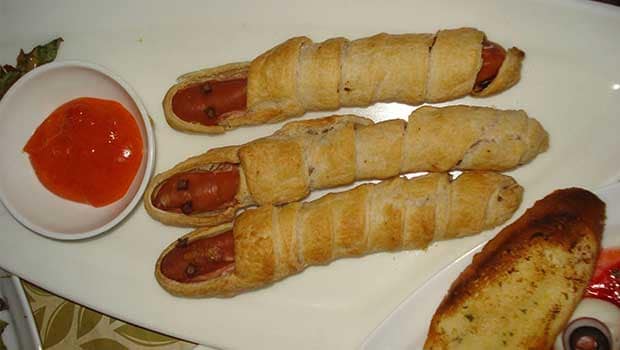 How to make Chopped Witch Fingers
Chicken sausages, wrapped with chillies and spices, an amazing snack for dinner parties. These spooky chicken fingers has to be on your halloween party menu.
Total Cook Time

1 hr 05 mins

Ingredients of Chopped Witch Fingers
For Onion Jam:
500 gram Chicken Sausages
500 gram Onion, sliced
20 gram Green Chillies, chopped
30 ml White Wine Vinegar
Oil
For Puff Pastry:
1000 gram Flour
20 gram Salt
200 gram Butter
50 gram Vinegar
250 gram Milk
200 ml Water
Prepare Onion Jam:
1.
Take a pan with oil and put on flame
2.
Add chili and sliced onion and cook for close to 10 minutes at slow heat.
3.
Take out from heat and strain.
4.
Grind the strained onion with vinegar in robot coupe. Your spread is ready
For Puff Pastry:
1.
Make puff dough using all ingredients and knead it for 8-10 minutes at 2nd speed.
2.
Once dough is ready spread it and let it rest for 3 hours in walk in.
3.
Take out dough and sheet it with rolling pin and fold butter sheet in it and give book fold. Let the dough rest for 30 minutes.
4.
Repeat the process 2 more times with same book fold and rest.
Assembly:
1.
Roll the puff very thin, 0.3 cm thick, spread onion jam and put chicken sausage and roll.
2.
Make cut like fingers and egg wash it, bake at 200 Celsius for 15- 20 minutes till skinny color.
3.
Cut the roll into finger pore size and Serve with red chilly dip.