Story Progress
Back to home
Coq Au Vin Recipe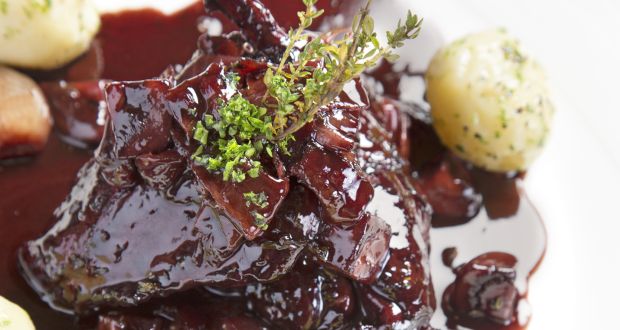 Get fancy with 'Coq Au Vin', a classic French delicacy! Braise the chicken with red wine, mushrooms, garlic and bacon lardons before throwing in some fresh parsley.
Total Cook Time

1 hr 05 mins

Ingredients of Coq Au Vin
900 gm chicken leg w/o skin
900 gm chicken breast w/o skin
200 gm flour
1/2 cup vegetable oil
75 gm garlic cloves caramelized
200 gm pearl onions peeled
200 gm button mushrooms
150 gm bacon lardons
20 gm thyme sprigs
2 cups red wine
2 cups brown sauce / demi glace
80 gm butter for sauce
800 gm potatoes tournee
30 gm parsley chopped
80 gm butter for potatoes
10 portions bread
Salt and pepper - to taste
1.
Season the chicken leg and breast with salt and pepper.
2.
Dredge in flour and saute in the vegetable oil.
3.
Remove the oil and add the bacon, mushrooms,garlic, pearl onions and thyme sprig.
4.
De-glaze with the red wine and reduce by half.
5.
Add the demi glace to the chicken and cook till the chicken is cooked fully through.
6.
Heat the butter in the pan and saute the potatoes until hot but still white.