Story Progress
Back to home
Corn and Miso Soup Recipe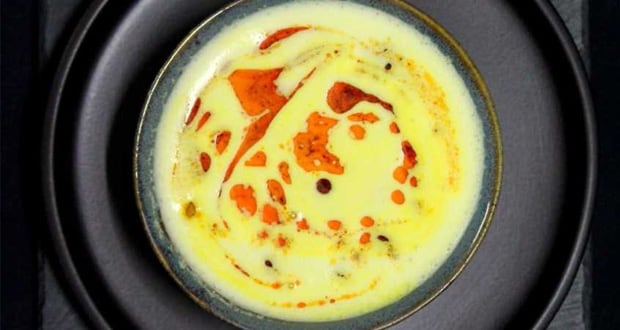 How to make Corn and Miso Soup
Creamy corn soup flavored with miso, served hot drizzled with chili oil.

Ingredients of Corn and Miso Soup
1/2 Cup Corn
1 1/4 cup Corn kernels (creamed)
3 cups Vegetable stock
1 1/2 tbsp Butter
1 Onion, finely chopped
2 tbsp White miso
to taste Salt
1/4 tsp Black pepper (freshly ground)
For drizzling Chili oil
1.
In a medium pot, add corn and creamed corn kernels and add 02 cups of vegetable stock, add more of the stock if require.
2.
Bring to a boil, simmer until stock is infused with corn flavor, for about ½ an hour.
3.
Heat butter in a non-stick pan. Sauté onion until translucent, about 3 minutes.
4.
Add miso and ½ cup corn stock and stir to dissolve miso.
5.
Add corn kernels and another ½ cup corn stock and cook until corn cooked through, about 02 minutes. Set aside and let it cool.
6.
Blend till smooth. Add stock. Strain soup through a fine-mesh soup strainer, back into pot, season it with salt and pepper. Simmer for 02 minutes.
7.
Pour the soup into 04 bowls and drizzle with chili oil.
Recipe Notes
You may add garlic to further enhance the flavor of the soup.
You may add White pepper Powder instead of freshly ground black pepper to retain the beautiful colour of the soup