Story Progress
Back to home
Corn & Cauliflower Soup Recipe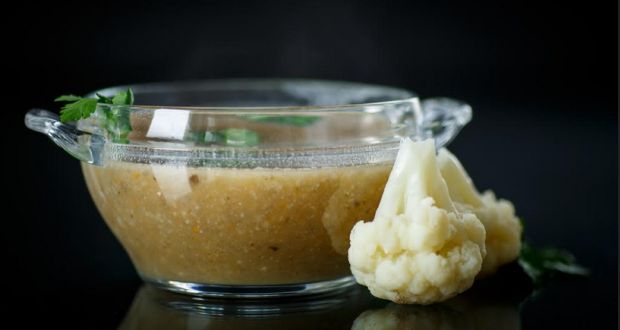 A gorgeous, thick and creamy soup that will make you winter delicious, comfy and warm.

Ingredients of Corn & Cauliflower Soup
1 Tbsp olive oil
1 onion, finely diced
4-5 cloves of garlic
2 cups cauliflower florets, finely chopped
1 cup corn
1 Tbsp cashew nut paste
2 glasses water
1 slice of Bread
1/2 tsp black pepper powder
1 tsp sugar
Salt as per taste
1.
Take a pan and add some olive oil. Throw in the sliced onions and stir it well. Then add the garlic.
2.
Add the cauliflower florets and cook for 2 to 3 minutes.
3.
Put in the cashew nut paste and mix well. Then add corn and water and cover the pan with a lid.
4.
Let it cook it on medium flame and then once its done, allow it to cool.
5.
Pour it in a blender and drop in the slice of bread and blend till you get a smooth paste.
6.
Now transfer the paste into a deep pan. Lower the flame to medium and add milk, black pepper powder, fresh cream, sugar and salt as per taste.
8.
Garnish with crushed corn and serve.