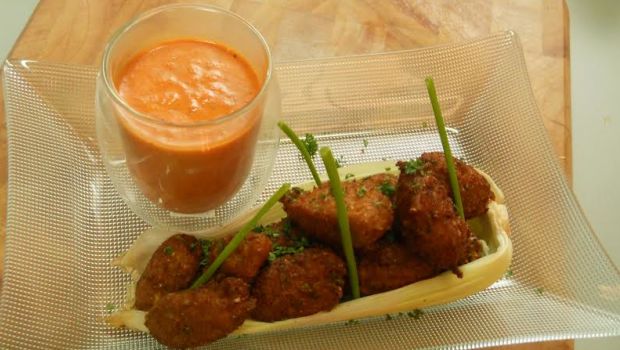 A snack the kids will love, corn fritters, is the perfect after school munch and it's delicious. Fried corn delights served with a tangy roasted bell pepper sauce.
Ingredients of Corn Fritters with Roasted Bell Pepper Sauce
For Corn Fritters:
150 Gram corn on the cob
1 Small onion, chopped
2 garlic cloves
2 green chilies
1 tsp baking powder
1/2 tsp baking soda
1 Tbsp polenta
1 Tbsp besan (gram flour)
1 Tbsp maida
1/2 tsp cumin powder
1 Tbsp olive oil
4-5 Tbsp vegetable oil frying
1 big pinch smoked paprika
1 tsp parsley, chopped
2 Tbsp milk
1 tsp red chilly powder
For the Sauce:
1 red bell pepper
Salt and pepper to season
2-3 tsp olive oil
1-2 tsp red wine vinegar
A pinch of smoked paprika
2- cloves of garlic
How to Make Corn Fritters with Roasted Bell Pepper Sauce
1.

If using corn on the cob, cut the corn kernels.

2.

If using frozen corn then defrost.

3.

In a pan, sweat chopped onions, garlic, corn kernels and chilies for 2 minutes.

4.

Transfer this into a food processor with polenta, maida, besan, baking powder, baking soda, cumin powder and paprika blits to make a stiff dough. Add a little milk if to dry.

5.

Shape this mix into small balls and deep fry until crispy brown.

6.

Serve with a roasted bell pepper sauce.

7.

For the Sauce:

8.

Rub the red bell pepper with salt, pepper and olive oil. Roast in the oven at 180 degrees

9.

Celsius or char on a grill.

10.

Transfer into a bowl and cover with cling film.

11.

This will crinkle the skin and make it easier to peel off.

12.

Slice into two, de-stem and de-seed.

13.

Using a food processor, puree the peppers along with garlic, salt, pepper, white pepper and paprika into a thick luscious sauce.
Key Ingredients: corn on the cob, onion, garlic cloves, green chilies, baking powder, baking soda, polenta, besan (gram flour), 1 Tbsp maida, cumin powder, olive oil, vegetable oil frying, 1 big pinch smoked paprika, parsley, milk, red chilly powder, red bell pepper, Salt and pepper to season, olive oil, red wine vinegar, smoked paprika, cloves of garlic