Story Progress
Back to home
Creamy Boursin-style Spread Recipe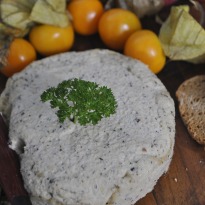 How To Make Creamy Boursin-style Spread
This creamy Boursin -style spread is absolutely addictive and delicious on your favorite crackers or bread. It is also absolutely fantastic in a sandwich and great with crudities.

Ingredients of Creamy Boursin-style Spread
1 cup raw cashew nut (not roasted or salted)
3-4 cloves garlic, finely minced
Himalayan sea salt or other unrefined mineral salt, to taste
Freshly ground black pepper, to taste
Mixed Herbs (Fresh or dried)
1-2 tsp lime juice
Filtered water/ Soy milk if required
1.
Soak the raw cashews in warm filtered water (just enough to cover them) for at least 2 hours with a dash of sea salt. (4-6 hours of soaking in warm water or overnight is also okay.)
2.
Pour out the water from the cashews and rinse with fresh water.
3.
Add the cashews and other ingredients to a grinder/blender.
4.
Process until you get a thick but creamy spread.
5.
Add Water/Soya milk if needed.
6.
Put into a glass container, cover, and keep in the fridge overnight for all the flavours to mingle.
7.
It should stay good for 5-6 days after that if refrigerated.
8.
Enjoy with crackers/bread as a dip accompanied by some raw veggies or right off the spoon.
10.
Omit herbs and garlic and use more pepper.
11.
Use shallots instead of garlic.
12.
To the basic mixture, add 1 teaspoon dried basil or any other favourite herb or use 1 tablespoon chopped fresh herbs.
13.
To the basic mixture, add 2 tablespoons chopped roasted red pepper or sun-dried tomato with onions.
14.
To the basic mixture,add de-seeded green chilli and coriander/parsley.