Story Progress
Back to home
Crunchy Biscuit Pudding Recipe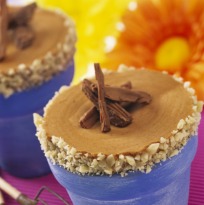 Chocolate biscuits, cream, fruits and grated chocolate combined to form a creamy and crunchy pudding.

Ingredients of Crunchy Biscuit Pudding
1 packet bourbon biscuit
1 cup mixed fruit - (pomegranate, pineapple, bananas, apples, orange, grapes)
100 gm semi sweetened cream
Grated chocolate or praline
1 Tbsp sugar
1 cup water
1.
Mix 1 tbsp of sugar and 2 drops of lime to the fruit and keep aside.
2.
Split each biscuit and dip it lightly in sugar syrup and layer it on a dish (wet it).
3.
Spread fresh cream over it. Sprinkle chopped fruits. Again spread cream.
4.
Decorate with grated chocolate or praline/plain roasted nuts.
5.
Refrigerate for 10-15 minutes.
6.
This can be preserved up to 2-3 days depending on the cream.