Story Progress
Back to home
Crusty Pork Chops Recipe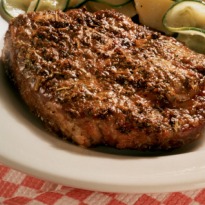 Pork chops fried in butter, topped with a crust of breadcrumbs, chillies, garlic paste and baked to perfection. Served with steamed vegetables and chutney.

Ingredients of Crusty Pork Chops
2 pork chops
10 gm green chilli
5 gm garlic paste
10 gm butter
25 gm bread crumbs
A dash of oil
Salt and pepper to taste
1.
Heat 100 gm of butter in a pan until it gets brown.
2.
Once it starts coloring, put it in the pork chops.
3.
Season it with salt and pepper.
4.
Cook until it gets golden brown.
5.
For the crust, mix the breadcrumbs, green chillies and garlic paste in a bowl.
6.
Bind it with a dash of oil. Add salt and pepper to taste.
7.
Smooth the crust over the chops from the pan.
8.
Bake in an oven until the crust has browned.
9.
Serve with any kind of chutney and steamed vegetables.