Story Progress
Back to home
Custard Apple Kalakand Recipe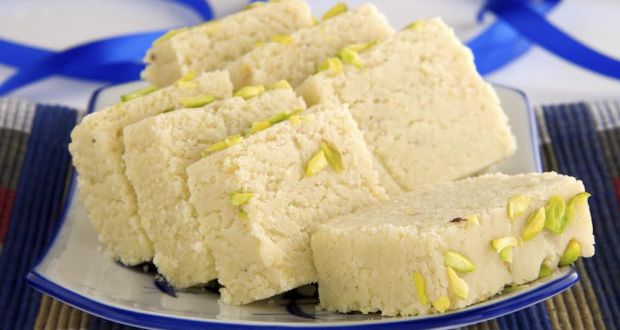 This melt-in-the-mouth Indian dessert is commonly found in North India and is the perfect balance of soft and crunchy.

Ingredients of Custard Apple Kalakand
2 litre milk
2 tsp lemon juice
2 tsp sugar
1/2 cup cardamom, powdered
1 tsp custard apple pulp
1 cup ghee
1/2 cup pistachios
5 - 6 almonds, slivered
Silver foil (optional)
1.
Divide the milk in two pans. Heat one pan till the milk has reduced to half and bring the milk in the other pan to a boil.
2.
When the milk comes to a boil, simmer the heat and add lemon juice to it till it curdles.
3.
Turn off the gas and drain the milk in a cotton cloth. Bring the sides of the cloth together and drain all the whey from the paneer.
4.
Run the cloth under fresh water to remove any trace of lemon from it.
5.
Add this paneer in the other pan when the milk has reduced to half and cook till the mixture starts to leave the sides of the pan.
6.
Add sugar and cook for another 2-3 minutes. Add cardamom powder and custard apple and mix well.
7.
Grease a plate with ghee and pour the mixture in and spread evenly.
8.
Garnish with pistachio slivers and silver foil and let the kalakand set.
9.
When set, cut into small pieces. It can be stored in an airtight container for 2 to 3 days in refrigerator.