Story Progress
Back to home
Dan Dan Noodles Recipe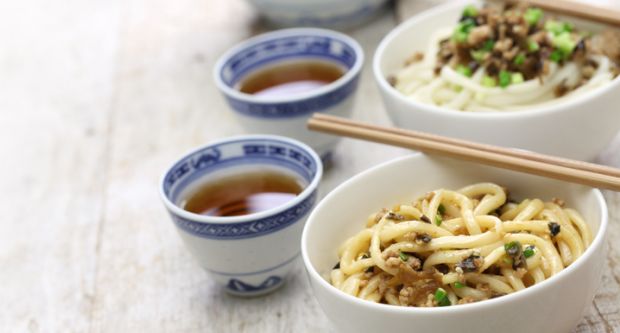 How to make Dan Dan Noodles
NDTV Food
Dan Dan Noodles are Sichuan's archetypal street snack, named for the bamboo pole that the vendors used to transport the snack. This is a fast and fresh option for people who love spicy, sweet, and tangy cooking. Although Dan Dan Noodles usually involve a splutter of pork mince, this recipe is vegetarian.

Ingredients of Dan Dan Noodles
500 Gram Wheat noodles
250 gram Cabbage
100 ml Soy sauce
50 gram Chinese Sesame Paste
250 ml Sesame Oil
50 gram Peanut Oil
25 gram Spring Onions
50 gram Bean Sprouts
75 ml Chilli Oil with Chilli Sediment
1.
First, set the noodles to cook in boiling water, until tender but not soft.
2.
Now add the cabbage just enough to let it wilt a little - a few seconds. Remove and place aside.
3.
Meanwhile, thin the sesame paste with the sesame oil. Julienne the scallions and bean sprouts.
4.
Place the condiments at the bottom of the bowl, then heap the nest of noodles and vegetables on top.
5.
Season, stir it all up and eat.
Recipe Notes
You can also add Red Chillies and Green Chillies to make a spicy version of Dan Dan Noodles.