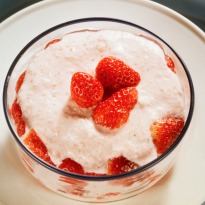 Whip up a nice, de-toxifying, fruity dessert with Tofu.
Ingredients of Detox Tofu Dessert
1 Cup tofu
1 cup strawberries
1/2 tsp orange zest, grated
1 tbsp honey
How to Make Detox Tofu Dessert
1.

In a blender add tofu, strawberry, honey and orange zest.

2.

Mix well.

3.

Pour out in a cup. Garnish with orange zest and fresh strawberries.
Key Ingredients: tofu, strawberries, orange zest, honey