Story Progress
Back to home
Drunken Salmon Cucumber Rolls Recipe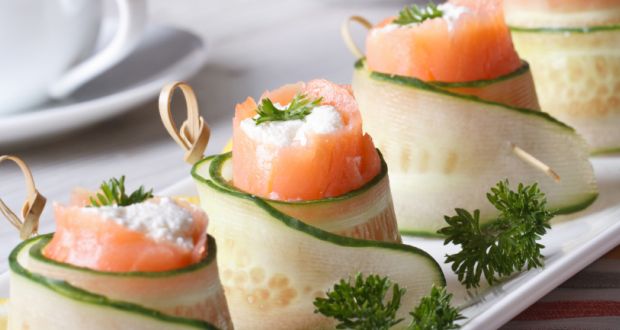 how to make Drunken Salmon Cucumber Rolls
Drunken Salmon Cucumber Rolls Recipe : Easy to make, this refreshing treat is guaranteed to be a big hit in any party. Smoked salmon, sour cream and cucumber slices are spiked with gin to give it a heady twist.

Ingredients of Drunken Salmon Cucumber Rolls
250 Gram smoked salmon
3 large cucumbers
200 ml sour cream
1 cups gin
1/4 cups parsley + extra sprigs for garnish, chopped
to taste Salt
1.
Slice the cucumbers lengthwise using a mandoline slicer.
2.
Pour the gin in a bowl and soak the cucumber slices in it. Keep it aside for 2 hours.
3.
Whisk the sour cream till smooth. Keep aside.
4.
Take a slice of cucumber, and slather a spoon of sour cream on one side. Place a smoked salmon slice on the cumber slice, and fold the edges. Layer it with more sour cream.
5.
Sprinkle with chopped parsley and then carefully roll the pieces together. You can use a skewer to pin it.
6.
Repeat the same process with the remaining slices. Serve chilled.