Story Progress
Back to home
Dudh Puli Recipe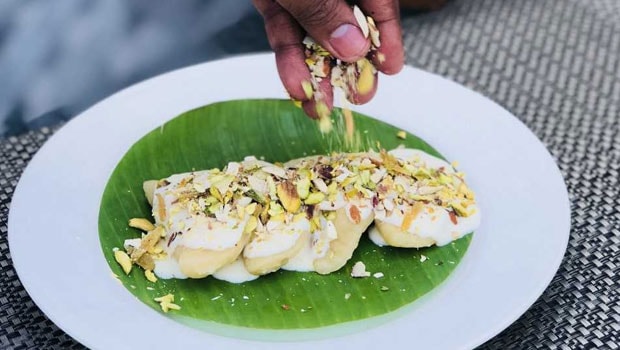 How to make Dudh Puli
The crescent shaped dumplings filled with coconut stuffing are steamed in cardamom and cinnamon infused milk.
Total Cook Time

1 hr 20 mins

Ingredients of Dudh Puli
2 Cups Dessicated coconut (unsweetened)
3/4 cup Condensed milk
1 cup Milk
2-3 small Cardamom
2-3 Cinnamon stick (1 inch each)
2 cups Rice flour
1 cup Water
1/8 tsp Salt
4 cups Milk
1 cup Sugar
3-4 small Cardamom
3-4 Cinnamon stick (1 inch each)
Prepare coconut filling:
1.
Mix coconut, condensed milk and regular milk on a non-stick pan. The mixture should be semi sticky but not runny.
2.
Add cardamom and cinnamon. Turn on stove and stir constantly until the mixture becomes slightly sticky.
Prepare Dumplings:
2.
Turn off stove and add rice flour to boiling water to form a firm but soft and not sticky dough.
3.
The dough should bounce back if you press with a finger. Adjust flour accordingly. Knead well for about 5 minutes.
4.
Take part of the dough and roll it out. Cut out circles with a cookie cutter.
5.
Place a small amount of coconut filling on each circle. Brush the edges of with water and seal tightly to form a crescent (semi-circular) shape.
6.
Now to cook the dumplings, boil 4 cups of milk with cinnamon and cardamom together in a non stick pan.
7.
Add sugar and dissolve in the boiling milk.
8.
Now add the dumplings and cook for about 10-15 minutes in medium-low heat or until dumplings are cooked.
9.
It can be served hot or cold. Garnish with brown coconut and chopped pistachio.