Story Progress
Back to home
Egg and Cheddar Cheese Sandwich Recipe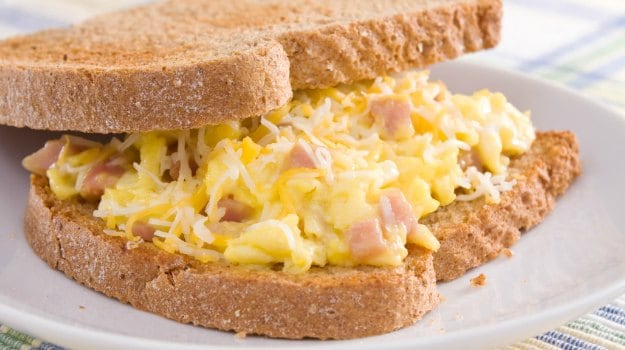 How to make Egg and Cheddar Cheese Sandwich
About Egg and Cheddar Cheese Sandwich Recipe: A quick and easy sandwich recipe, egg and cheddar cheese sandwich is both filling and flavourful. Loaded with cheddar cheese, you can treat yourself with this one on cheat days.

Ingredients of Egg and Cheddar Cheese Sandwich
1 Egg
to taste Salt
A pinch of Pepper
20 gram cheddar cheese
2 Ham slices
1 Tbsp of mustard sauce
3 Basil leaves
1.
Grab a cupcake tray and grease it.
2.
Break the egg into the mould and dust it with salt and pepper.
3.
Pre-heat the oven for 15 minutes and then put the tray in.
4.
Let it bake for about 5-6 minutes. You'll be able to see when the egg is done.
5.
Pull it out and chop it into medium-sized pieces.
6.
Add some ham and cheese to the mix and heat it in the microwave for a few minutes so that the cheese melts.
7.
Put it on toast and dress it up with basil and mustard.