Story Progress
Back to home
Eggless Vanilla Cake in a Microwave Recipe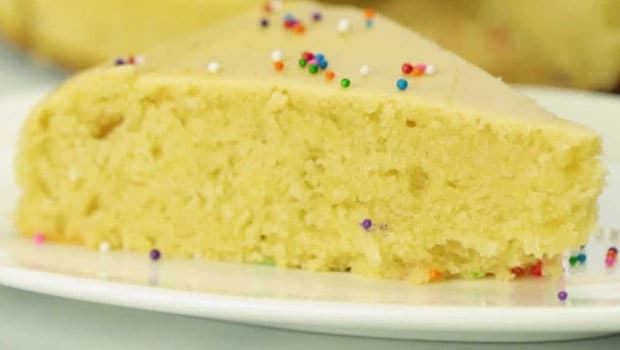 How to make Eggless Vanilla Cake in a Microwave Recipe
About Eggless Vanilla Cake in a Microwave Recipe | Vanilla Cake Recipe: A simple, fluffy and moist eggless vanilla cake recipe without additional flavours except vanilla extract. This eggless vanilla cake recipe makes it easier and fuss-free to make the classic vanilla cake without compromising on its flavour. Eggless cakes can be tricky, but they don't always have to be fussy or complicated. An ideal cake for birthdays and dinner parties and can be frosted with vanilla frosting or served as is.

Ingredients of Eggless Vanilla Cake in a Microwave
2 Cups Flour
2 tsp Baking powder
1/2 cup Butter
1/2 cup Sugar, powdered
1/2 cup Milk
2 tsp Vinegar
1 tsp Vanilla essence
1.
Mix the flour, baking powder, butter and sugar.
3.
Add the milk followed by vinegar and beat the batter smooth.
4.
Transfer onto the baking pan.
5.
Bake at 100% for 2 minutes.
6.
Turn container round and bake another 2 minutes.
7.
Turn around again and bake for a minute.
8.
Let stand for 5 minutes then turn cake out of the tin.