Eggplant and Spicy Rice with Nuts Recipe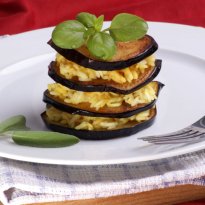 Short grain rice cooked with marinated baby eggplants, cashews, raisins and almonds. Served hot with a cold onion raita.
Ingredients of Eggplant and Spicy Rice with Nuts
6 baby egg plants
150 gms short-grain rice
2 tsp green chilly paste
1 tsp cumin
1/2 tsp cracked black pepper
2 inch strip of cinnamon
1/2 tsp sesame
Halved cashew nuts
Halved and roasted almonds
20-25 soaked raisins
1 small cup ripe tomato, finely chopped
1 cup french beans cut one inch
2 tsp ginger, julienne
2 buds of clove
Vegetable stock
1 thinly sliced big onion
Oil to fry
50 gms paneer, cut into small pieces
Dry red chillies
Salt to taste
Turmeric
Cardamom
How to Make Eggplant and Spicy Rice with Nuts
1.
Cut the eggplants partially into 4 sections.

C
2.
In a pan, dry roast cinnamon, pepper, clove, dry red chillies, sesame and grind into a coarse paste.

C
3.
Apply over the eggplant inside out and allow to marinate.

C
4.
In a cooker, heat some oil, throw in the cumin and cardamom and allow to crackle, add the onions & turmeric and saute for 5-7 minutes.

C
5.
Now add julienned ginger, tomato, french beans, green chilly paste and allow to cook for 3-5 minutes.

C
6.
Now add the rice, salt, paneer along with the stock and cook till the rice is fully done.

C
7.
In a thick deep pan, heat oil and deep fry the marinated eggplants till completely cooked.

C
8.
Gently dress the fried eggplants with all the roasted cashews and almonds. Mix the soaked raisins into the spicy rice prepared.

C
9.
Serve hot with onion raita.

C
10.
Note: Garlic is optional.

C
Key Ingredients: