Story Progress
Back to home
Fig Compote Recipe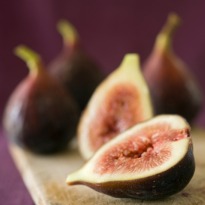 Figs poached in delicate syrup of sugar and orange juice, and spiked with cinnamon and rum. The perfect sauce for desserts!

Ingredients of Fig Compote
150 gm grain sugar
300 ml water
2 cinnamon sticks
4 cloves nutmeg
Pared rind of 2 oranges
100 ml rum
50 ml orange juice
250 gm whole dried figs
25 gm blanched, shredded browned nuts
1.
Place the sugar, water, spice, and rind into a saucepan.
2.
Dissolve the sugar in the water and boil for 5 minutes.
3.
Add the figs and rum to the pan.
4.
Cover and allow the figs to simmer for 20 - 30 minutes, or until soft.
7.
Chill well and serve scattered with nuts.