Story Progress
Back to home
Fruit Cupcakes Recipe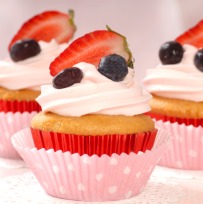 Cupcakes filled with sugar, fruit and topped with whipped cream and mint sprigs.

Ingredients of Fruit Cupcakes
100 gms butter
100 gms castor sugar
1 sweet lime
2 eggs
100 gm flour
1 tsp baking powder
For the Cupcake Filling:
2 Tbsp sugar syrup
4 Tbsp chopped prepared fruit
1 Tbsp candied ginger
For the Cupcake Topping :
125 ml whipped cream
Sprigs of mint
1.
Cream butter, sugar and rind together.
2.
Gradually pour in beaten eggs.
3.
Fold in flour and baking powder.
4.
Spoon into oiled muffin moulds/paper cases.
5.
Bake at 180 degrees centigrade for 10-15 minutes. Cool.
6.
Scoop out the center from the cupcakes.
7.
Combine filling ingredients and place a 1 tsp in each of the cake hollows.
8.
Top with whipped cream and mint sprigs.