Story Progress
Back to home
Gluten-Free Amaranth Tabbouleh Recipe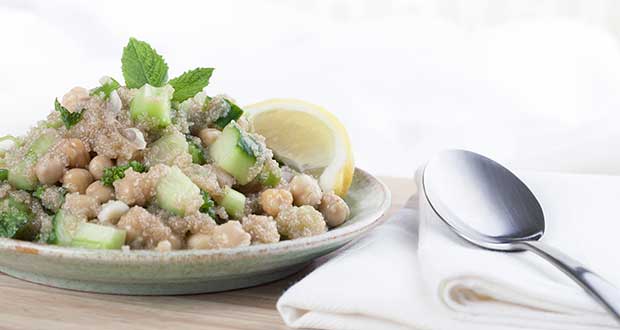 How to make Gluten-Free Amaranth Tabbouleh
Gluten-Free Amaranth Tabbouleh: Tabbouleh is a mid-eastern salad and in this version it is made with amaranth. Throw in some chickpeas, juicy cucumbers and tomatoes to make a simple yet very satisfying meal.

Ingredients of Gluten-Free Amaranth Tabbouleh
1 cup amaranth
1/2 cup boiled chickpeas
1/2 cup cucumber
1/2 cup of onion
1/2 cup of tomato
1/2 cup of mint leaves
1/2 cup coriander
1 cup flat leaf parsley
1 tsp lemon rind
2 tsp lemon juice
2 Tbsp olive oil
1 tsp sumac powder
3 tsp pine nuts
salt as per taste
1.
Heat 1 cup amaranth in a skillet over low heat, stirring constantly, until the grains begin to "pop" (1-2 minutes).
2.
Transfer to a pot and add 3 cups water.
3.
Cover & bring it to boil & simmer for 15-20 minutes until most (or all) of the water is absorbed, Remove from heat & cool.
4.
Peel and dice 1/2 cup cucumber, 1/2 cup each of onion, tomato, fresh mint leaves & coriander.
5.
Wash, drain and chop 1 cup flat leaf parsley.
6.
Combine all the ingredients in a large bowl and add salt, 1 teaspoon lemon rind, 2 teaspoon lemon juice, 2 tablespoon olive oil, 1 teaspoon sumac powder, 3 teaspoon pine nuts, and 1/2 cup boiled chickpeas.
7.
Toss gently to combine all the ingredients together and serve chilled.