Story Progress
Back to home
Gnocchi with Pesto Sauce Recipe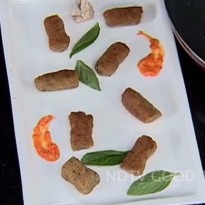 How to make Gnocchi with Pesto Sauce
Gnocchi is a potato based dumpling originally from Italy but popular all over the world. Nikhil and Natasha cook up a version of this dish in fresh pesto sauce.

Ingredients of Gnocchi with Pesto Sauce
2 potatoes, peeled
1 egg
1/4 cup rice flour
For the Pesto Sauce:
3-4 Parmesan cheese cubes, diced small
1 tsp pine nuts
4-5 cloves garlic
1 cup basil leaves
1 Tbsp olive oil
Salt and pepper to taste
For the Tomato Sauce:
3-4 tomatoes, chopped fine (The chef used a cup of cherry tomatoes here. You can use any)
Olive oil
Parmesan cheese
3-5 cloves garlic chopped
1/2 tsp red chilly powder
Salt and pepper to taste
A pinch of sugar
1.
Place the potatoes in a bowl and coat it with some rice flour.
2.
In another bowl, break the egg and lightly beat it. Keep aside.
3.
Now mix all ingredients of the pesto sauce in a blender.
4.
Mix in the egg with the potatoes and mash them.
5.
Add the pesto sauce to it. Mix well and them make elongated rounds of the potato mash.
6.
In a pan heat up water and boil these rounds.
8.
Now in another pan, pan fry the gnocchi.(without oil) Till they become slightly brownish.
For the Tomato Sauce:
1.
In a pan heat some olive oil about a teaspoon.
3.
Now add the tomatoes and some Parmesan cheese.
4.
Add red chilly powder, salt, pepper and a pinch of sugar.
5.
Mix and let it simmer for a while.
6.
Once it becomes slightly thickish remove from heat and keep aside.