Story Progress
Back to home
Golgappa Shots Recipe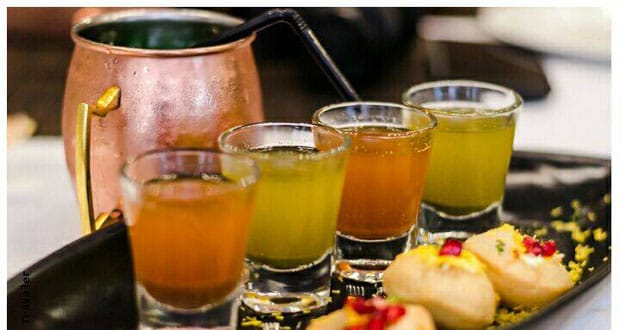 How to make Golgappa Shots
Here's an innovative, quirky recipe - apple, orange and guava juice, flavoured with mint, black salt, lime and other ingredients and poured in shot glasses. Plums, mangoes and watermelon come together, stuffed inside crispy golgappas.

Ingredients of Golgappa Shots
250 ml guava juice
250 ml orange juice
250 ml apple juice
8-10 mint leaves
8-10 basil leaves
2 tsp black salt
1 tsp sugar
1 tsp jeera
2 tea bags
1 medium piece ginger
2 lemons
2 ice cubes
100 gms watermelon
100 gms mango
100 gms plum
1.
Add chopped mint leaves, black salt, pounded jeera & lemon juice to guava juice.
3.
Add chopped basil leaves, ginger, lemon juice & black salt to orange juice & mix well.
4.
Pour boiling water over tea bags.
6.
Now, add ice cubes, chopped mint leaves, lemon juice & apple juice to it.
7.
Pour all the mixtures into different shot glasses.
8.
Stuff golgappas with finely chopped plums, mangoes & watermelon.
9.
Place it over shot glasses.
10.
Garnish it with mint leaves.